As I mentioned in a previous post, I spent this past spring and early summer in my hometown, in Brittany, France. As always, whenever I get to spend some time in my beloved native country, I take it as a privilege to (re)immerse myself in the authenticity of French food and to (re)discover on-hand its modernity and ever-changing vibes. As I now live far away from France, it makes it harder to keep up with the trends (and to satisfy my weekly addiction to food magazines, available only in France.).
And this spring/summer edition of my yearly stay in France was no exception to the rule. I was once again amazed by the vibrancy, modernity of French food and how the French never get tired of decomposing and recomposing our French classics. And if you spent a few days in France this summer, I would find it hard to believe that you didn't pass by a Sunshine Pull-Apart Pie, called "tarte soleil". French food Blogs, magazines, Pinterest, TV shows, restaurants, cafes and home kitchens… they were everywhere. The French are very fond of their savory pies, and the Sunshine Pull-Apart Pie is the perfect example of a modern twist on a French classic. In summer 2016, the Americans had their rainbow donut… the French had their Sunshine Pull-apart pie.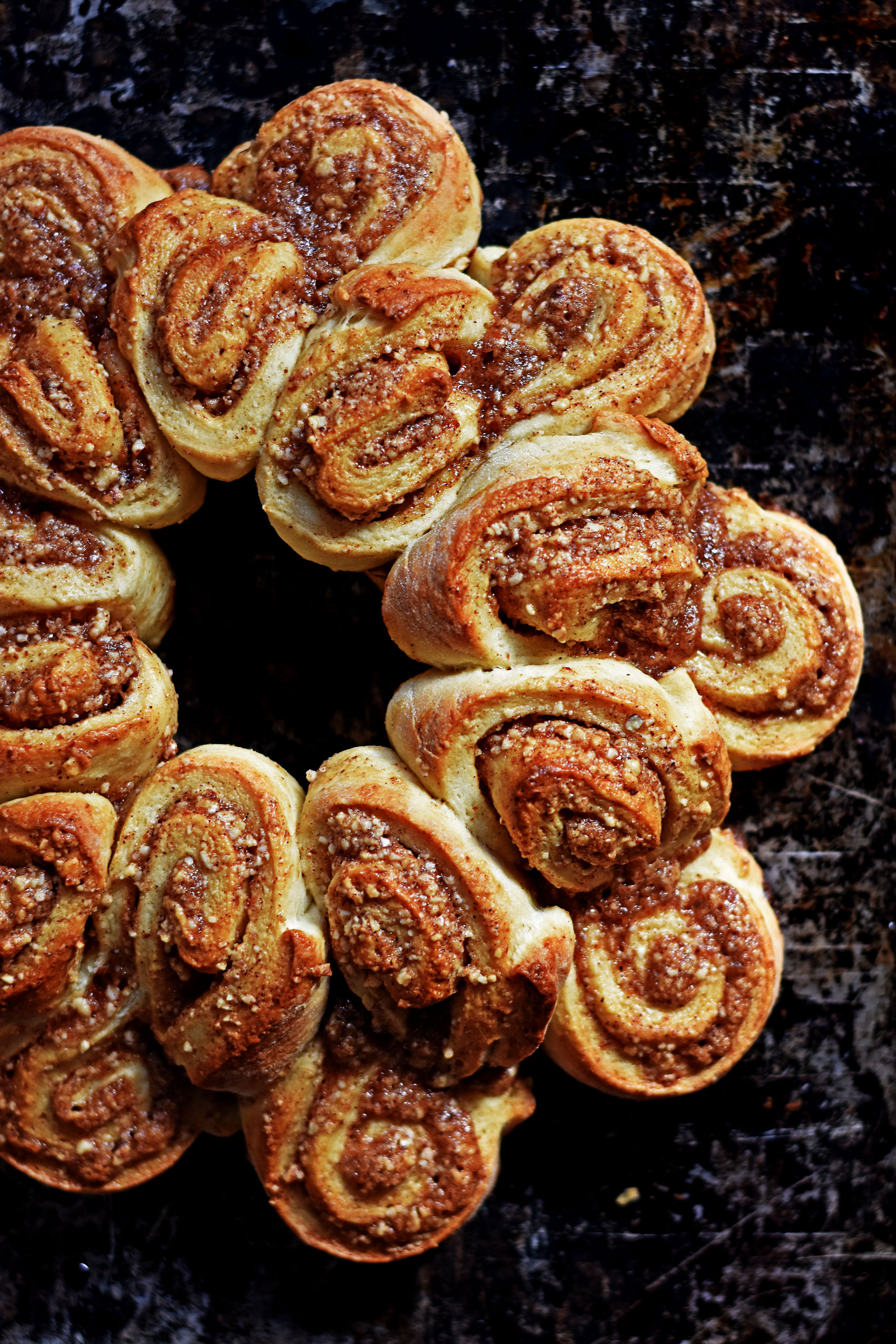 You guessed it by the name, the Sunshine Pie inspired me for this Almond Sunshine Pull-Apart Brioche. So, basically… This is a twist on a twist of a French classic. As a little French girl at heart, I would say that brioche is probably one of my favorite things in the whole wide world, and I am always looking for new twists to put on it. And this one was a real success. It is very, very, buttery. Just like a brioche should be. For the filling I opted for an almond meal based spread, which gave a delightful nutty texture and flavour, without being overly sweet.
Between the rising of the dough and the shaping, you will need to devote a few hours of your day to the making of this brioche. But the result, and the whole process, are so very worth it. This is one of those recipes that are all about disconnecting from the rest of the world and taking your time. Not rushing and enjoying every step of the creation. Celebrating the small joys of the kitchen, as I like to say.
As the brioche came out of the oven, I was actually a bit ruffled by its appearance. Sure it was beautiful, but it also looked pretty similar to a cinnamon roll cake; and that's not really what I wanted for a French-inspired recipe. But as I had my first bite, I was completely reassured – that distinct almond taste and that buttery texture, make it undeniably, very French.